Volume of a Tetrahedron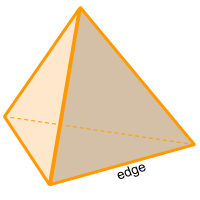 Volume calculator for a tetrahedron
Description, how many faces, edges and vertices are there in a tetrahedron
The tetrahedron, is a triangular pyramid, where each face is an equilateral triangle; In case one of the faces (triangles) is not equal to the rest, it is considered an irregular tetrahedron or as a triangular pyramid and another formula is used to calculate the volume.

A tetrahedron (tetra = 4 and hedron = face), has 4 faces (equilateral triangles), has 6 edges, and has 4 vertices where 3 edges meet.
Formula for the volume of a tetrahedron
To calculate the volume of a tetrahedron divide the square root of 2 into 12, then multiply the result by the edge to the power of 3 (since the tetrahedron is made up of equilateral triangles, you can use any edge). You can also use the online calculator to calculate the volume of the tetrahedron automatically.
Volume of other shapes
Volume of different geometric shapes: