Volume of a Cylinder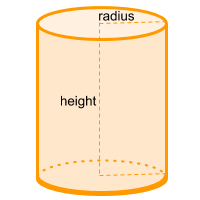 Volume calculator for a cylinder
Description, how many faces, edges and vertices are there in a cylinder
The cylinder or regular cylinder, has 3 faces, 2 of those faces are flat and form the base and the opposite base, the third face forms a curved side. The base and the opposite base are the same, and from the base to the opposite base the shape remains the same. It has 2 curved edges and no vertices.

In case the ends of the cylinder (base and opposite base) are not aligned, we are in the presence of an oblique cylinder.
Examples of a cylinder
We can find many objects that look like a cylinder, examples of cylinder shaped objects are: a log, a can of soda, a candle, a stack of poker chips, a pizza (yes, since it has a height is not considered a circle), a coin (it is a cylinder with a very small height), among others. Can you think of any other examples? leave a comment in the comment section at the bottom of the page.
Formula for the volume of a cylinder
To calculate the volume of a cylinder is very simple, we must multiply π (Pi = ~ 3.14) times the radius squared and then multiply the result by the height. You can also use the online calculator to calculate the cylinder volume automatically.
Volume of other shapes
Volume of different geometric shapes: